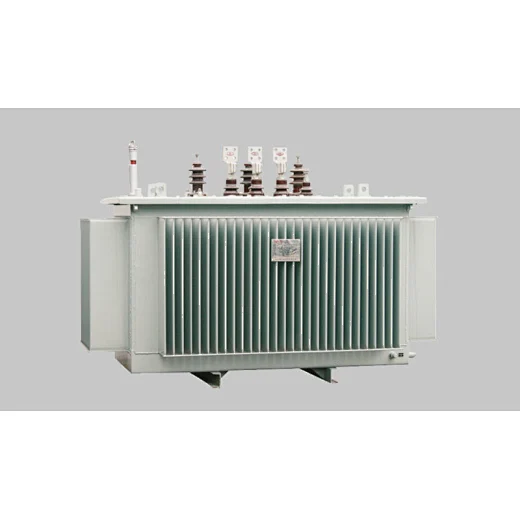 11KV S(B) H15 Hermetically-Sealed Oil-Immersed Amorphous Alloy Distribution Transformer
SBH15-11KV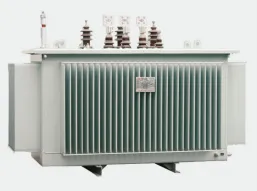 Model Specification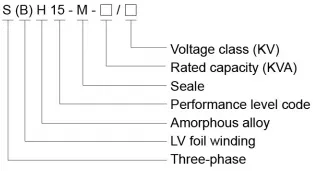 Work Condition
1. Altitude should not be over 1000m, indoor type
2. Highest ambient temperature should not over +40°C; highest daily average temperature should not over +30 °C )
3. Highest annual average temperature should not over +20°C, lowest temperature should not below-25°C .
* Non-standard transformer is accepted to redesign as per customer requirement.
Reference Standards
1 Power transformer: GB1094.1-2-1996, GB1094.3-2003, GB1094.5-2008
2.Technical parameters and requirements for hermetically-sealed and oil-immersed amorphous alloy distribution transformer: JB/T10318-2002
Performance Characteristics
1. Amorphous alloy core distribution transformers adopt amorphous alloy, which consists of materials such as iron and boron, etc.
2. The iron structure of amorphous alloy transformer adopts three phases and five columns.
3. This kind of hermetically sealed distribution transformer has similar body assembly, structure of oil tank, and protection devices with hermetical oil-immersed transformer.
4. This kind of transformer has same load-loss with S9 series, but the no-loss of SBH-15 transformers are decreased by approximately.75% by comparing with S9 series. It can save electricity and decrease the loss cost. Generally, we can take back the extra investment in four years compared with the silicon-steel iron transformer.
5. Under the normal operation, it does not need to change oil, which decreases the transformer's maintenance cost and prolongs the service life.
Order Information
Transformer type:
Rated capacity: KVA
Number of phases: three-phase 口 single-phase 口
High voltage: KV
Low voltage: KV
Frequency: 50HZ 口 60HZ 口
Tapping range: ± 4 x 2.5%口 ± 3 x 2.5%口 other口
Connection group: YynO 口 Dyn11 口 other口
Impedance voltage: 4%口 6%口 other口
Cooling method: ONAN 口 ONAF 口
protecting grade of outer casing: IP00 口 IP20 口 IP30 口 other口
Order Information
Method of incoming and outgoing line:
1 .Incoming line to lower part and outgoing line from upper part 口
2.Incoming line to upper part and outgoing line from upper part 口
3.Incoming line to lower part and outgoing line from side part 口
4.other 口
*The default color of shell is light grey (based on the standard color of DELIXI). Please indicate the color when it is different from your requirement.
Technical parameters of SBH15-M-30-1600/11 series distribution transformers